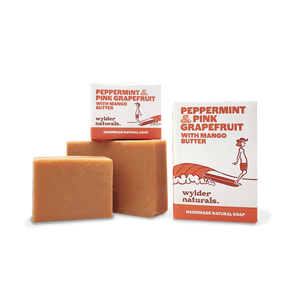 Fresh & Energising

A smooth, exfoliant-free soap made with French pink clay and moisturising mango butter, balanced with an essential oil blend of refreshing peppermint and zesty pink grapefruit.
Where to use it
A perfect body or face soap.
How to use it
Use in the shower in place of gel, in the bath or by your bathroom or kitchen sink. Lather the soap between your hands and wash with the bubbly lather.
Skin Types
Suited to all skin types but particularly good for sensitive skin.
Plastic Free Packaging 

100% Natural Ingredients 

Vegan 

Cruelty Free 

Handmade in England 
Main Ingredients:
Mango Butter
Mango butter is a powerful moisturiser and helps soften your skin. The abundance of Vitamin E and Vitamin C in mango seeds help protect your skin from from the elements.
Coconut Oil
Coconut oil is one of the main oils used in all of our soaps and is an excellent moisturiser for both the skin and the hair. Coconut oil is a cleanser meaning it has the ability to cleanse the skin of the bacteria and dirt, it also helps to form those big bubbles in the lather.
French Pink Clay
A natural skin decongestant and purifier, pink clay absorbs excess oils and removes impurities from your pores.