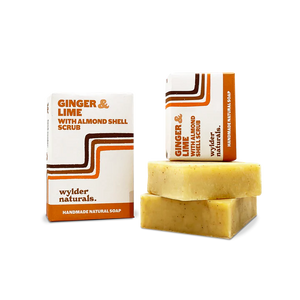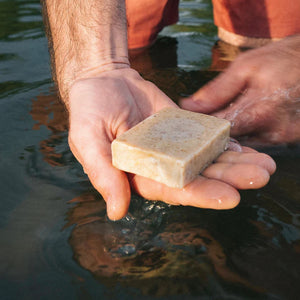 Warming & Wild
A hard-working hand soap with moisturising mango butter and a healthy handful of almond shell exfoliant, fragranced with warming ginger, rich rosemary and zesty lime essential oils.
Where to use it
A perfect body or face soap.
How to use it
Use in the shower in place of gel, in the bath or by your bathroom or kitchen sink. Lather the soap between your hands and wash with the bubbly lather.
Skin Types
Suited to all skin types but particularly good for sensitive skin.
Plastic Free Packaging 

100% Natural Ingredients 

Vegan 

Cruelty Free 

Handmade in England 
Main Ingredients:
Mango Butter
Mango butter is an powerful moisturizer and helps soften your skin. The abundance of Vitamin E and Vitamin C in mango seeds help protect your skin from from the elements.
Coconut Oil
Coconut oil is one of the main oils used in all of our soaps and is an excellent moisturiser for both the skin and the hair. Coconut oil is a cleanser meaning it has the ability to cleanse the skin of the bacteria and dirt, it also helps to form those big bubbles in the lather.
Ginger Essential Oil
Ginger Essential Oil can soothe redness and irritation on the skin and eliminates bacteria. Its antioxidant properties are known to have a protective effect on the skin, inhibiting the signs of skin damage and aging, such as wrinkles and fine lines.
Sodium Cocoate (Coconut Oil), Sodium Mangoseedate (Mango Butter), Sodium Olivate (Olive Oil), Sodium Sunflowerseedate (Sunflower Oil), Sodium Palmate (Sustainable Palm Oil), Glycerin, Aqua, Sodium Castorate (Castor Oil), Kaolin Clay, Citrus Aurantifolia Peel (Lime Essential) Oil, Zingiber Officinale Root (Ginger Essential) Oil, Rosmarinus Officinalis Leaf (Rosemary Essential) Oil, Prunus Amygdalus Dulcis (Almond) Shell Powder, Curcuma Longa Root (Tumeric) Powder.