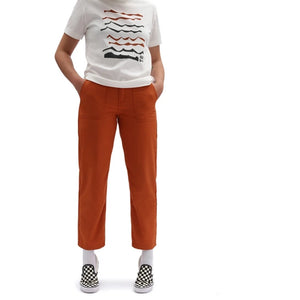 The VANS 'Textured Waves' Women's Trousers feature a flat front and wide leg. The fabric is super soft and comfortable, making them a lush choice for comfort and movement. These women's trousers also feature unique embroidered 'Textured Waves' artwork to the rear pocket in matching Bombay Brown. They are designed with two side pockets, patch pockets on the back, and a button and a zipper at the front.
Limited VANS 'Textured Waves' Clothing Collection
Embroidered 'Textured Waves' Artwork to Back Pocket
Flat Front with Wide Leg
Soft and Comfy Fabric
Back Patch Pockets
Side Pockets

Composition: 

80% POLYESTER, 20% VISCOSE

Style: 

VN0A7RVUYV4
This limited edition VANS 'Textured Waves' clothing  collection has been designed alongside their latest brand ambassador Chelsea Woody. Who has elevated a movement to grow the culture around surfing for women of colour and underrepresented demographics through representation, community and camaraderie. Together, VANS and Woody are dedicated to shifting the global perspective and narrative around BIPOC women in surfing, by uplifting their voices and experiences through different avenues, including Woody's new short film, Night Crawler.
Since 2019, Woody's work with Textured Waves, alongside fellow co-founders Danielle Black Lyons and Martina Duran, has gained momentum and included some notable partnerships with those in the surfing community to help highlight the lack of diversity in the lineup, as well as what's showcased across surf art and media.