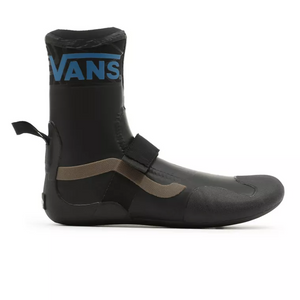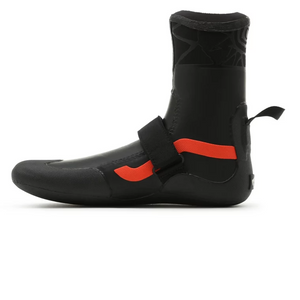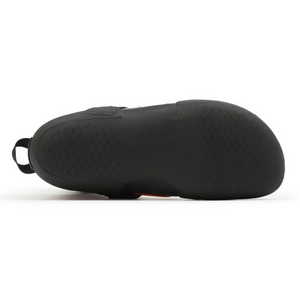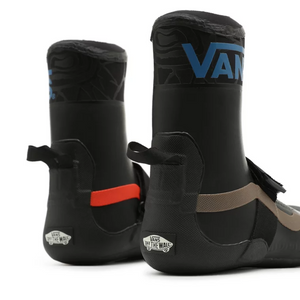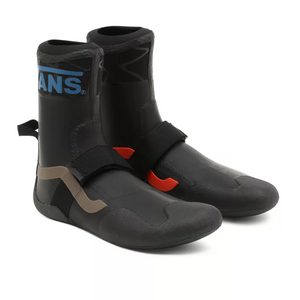 This universal VANS X Hanna Scott 'Surf Boot HI V' LTD Wetsuit Boot in 5mm thickness is sized right through so anyone can wear it. Cast in unique colour and graphic theme, designed by VANS ambassador Hanna Scott. Timeless black colourway is coupled with triple red / blue / gum highlight scheme, really setting the bootie off. Additionally the wetsuit boot features custom Hanna Scott graphics set tonally in black on black to the upper ankle. They feature outside widewall 'gum' VANS sidestripe and inside sidewall 'red' VANS sidestripe, which as well as looking great cleverly lend structural integrity. Contrast 'blue' VANS text graphic to upper ankle, plus secondary white VANS feature in the cast heel tab.
The Surf Boot from VANS has shaken up this sector, offering it's superior fit and take on the timeless and grippy VANS waffle sole being dye cut in to the sole. All combining to give the wearer unparalleled fit, performance and traction in the water.
Hiatus is a premium UK stockist of this exciting 'VANS X Hanna Scott' special project from VANS Footwear and their creative surf ambassador. The VANS ambassador calls the beautiful landscape and awe inspiring seas of Tofino on the North Pacific coast of BC, Canada her home. This unique environment has given rise to her own creativity in surfing and art, and inspiration for this signature VANS X Hanna Scott collection.
• 'VANS X Hanna Scott' Signature Collection
• VANS High top Surf Boot V
• 5mm Thickness Premium Neoprene for Warmth
• Round Toe Construction for Universal Fit
• Liquid Rubber Dipped around the foot shape for warmth and support
• Hook-and-Loop Strap for Custom Fit and Maximum Adjustability
• MATERIAL: Synthetic and Textile
VANS 360 Grip: Legendary VANS grip, extended on the sides and toes gives unmatched control and unfiltered board feel at any contact point.
VANS Second Skin Fit: Seamless feels like nothing between you and the board. Plus, a moulded toe cavity means no excess material for added comfort.
VANS Climate Control: Warmth in. Water out. Liquid rubber-dipped neoprene makes it happen.
'Built to keep you "Off The Wall" and in the water, this is the wetsuit boot you've been waiting for. Built to exceed the needs of the VANS team, every inch and every stitch has been crafted for comfort and performance to bring your style to life in all conditions. Placing a premium on boardfeel and grip, the VANS Surf Boot 2 Hi wetsuit boot takes everything VANS know about skate shoes and packages it up in a surf bootie. Featuring 3mm neoprene with an ergonomically shaped round toe construction for universal fit, liquid rubber dipped around the foot and up to the ankle for warmth and support, the Surf Boot 2 Hi V wetsuit boot is the next generation of pure performance without sacrificing style.'