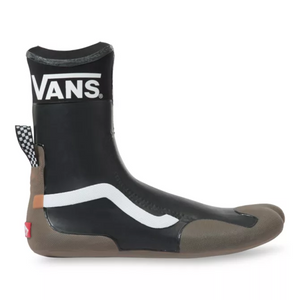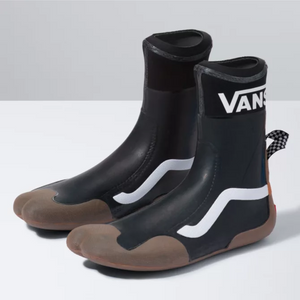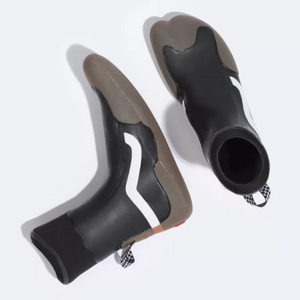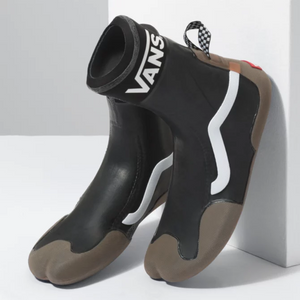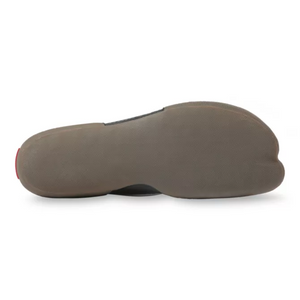 Vans Surf Boot 2 HI Wetsuit Boot - 3mm - Black / Gum
VANS Surf Boot Hi in 3mm Thickness

Premium Neoprene for Flexibility

Liquid Rubber-Dipped for Warmth and Support

Die Cut and Textured Cast Gum Sole for Grip and Board Feel

Ergonomically Shaped Round Toe for Ultimate Fit

VANS White Signature Side Stripe lends Structural Integrity

VANS White Contrast Classic Text Logo to the ankle

Red VANS 'Off The Wall' Emblem to Heel

VANS Checkerboard Classic Webbing Heel Pull
VANS 360 Grip: Legendary VANS grip, extended on the sides and toes gives unmatched control and unfiltered board feel at any contact point.
VANS Second Skin Fit: Seamless feels like nothing between you and the board. Plus, a moulded toe cavity means no excess material for added comfort.
VANS Climate Control: Warmth in. Water out. Liquid rubber-dipped neoprene makes it happen.
Built to keep you "Off The Wall" and in the water, this is the wetsuit boot you've been waiting for. Built to exceed the needs of the VANS team, every inch and every stitch has been crafted for comfort and performance to bring your style to life in all conditions. Placing a premium on boardfeel and grip, the VANS Surf Boot 2 Hi wetsuit boot takes everything VANS know about skate shoes and packages it up in a surf bootie. Featuring 3mm neoprene with an ergonomically shaped round toe construction for universal fit, liquid rubber dipped around the foot and up to the ankle for warmth and support, the Surf Boot 2 Hi V wetsuit boot is the next generation of pure performance without sacrificing style.