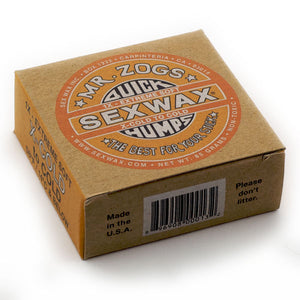 This is the softest formula Sexwax that Mr Zogs make at '1X - Extreme Soft'. The brand's guide temperature is '58F / 14C & Below'. It's the ideal surf wax for surfers during the coldest winter months or trips to even colder climates and seas (Iceland anybody?). As with all things your surf wax choice is a personal thing, so this Extra Cold to Cold formula is also great for those looking for a little more grip or a softer wax, period. Some might their surfwax a little firmer too, going for another option from the Quick Humps range and that's good too.
Mr Zogs formula is the best and most trusted surfboard wax in the world. Unlike many other brands which can crumble or flake on application, Sexwax builds up in beads on the deck of your board. Through this it provides superior and the most trusted grip beneath your feet. We can testify to it ourselves here at Hiatus.
Sexwax Quick Humps surfboard wax formula is the go to choice for surfers all over the globe. Whether just starting out, progressing, experienced or professional surfers. Experiment with the formulas to find the best for you and your board and the conditions you surf. We recommend a base coat such as Tropical for best adhesion to your surfboard, followed by the correct grade applied over the top for traction underfoot.
Plus all Quick Humps formula comes packaged in recyclable paperboard boxes, plastic free. This new package is easy to open and can be reused to keep your leftover or partially used wax clean in its original package.