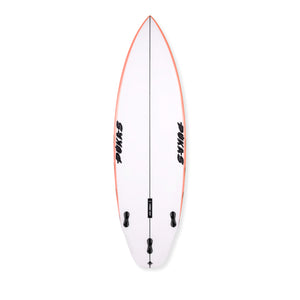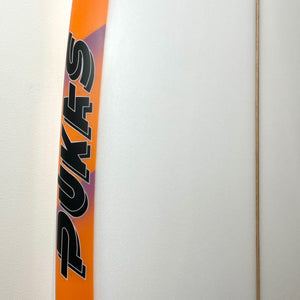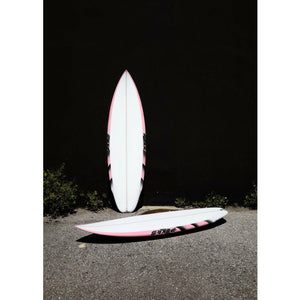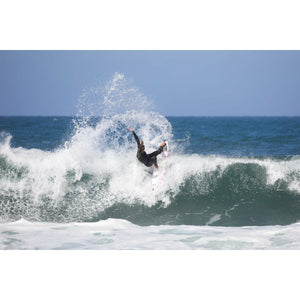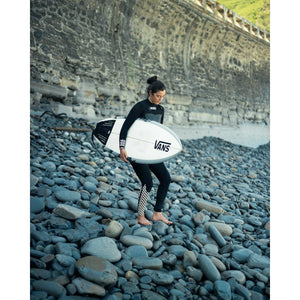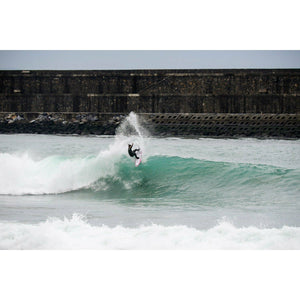 The Pukas 'The Rush' Surfboard model by Axel Lorentz is a high performance yet fun littered board from the Basque country brand. Taking the best of accessible present day performance surfboard design, crossed with some of the defining board attributes from the Eighties and Nineties. A retro inspired model for the contemporary surfer with a curiosity for something new, different and better.
Dimensions: 5'11" x 19.88" x 2.43"
Volume: 30.53 litres
Fin Set Up: FCSII - Thruster  (Fins Not Included)
Construction: PU (Polyurethane Foam + Polyester resin)
Glass: Standard - Orange Rail Art
Finish: Sanded
While at the performance end of the surfboard spectrum, this shape is interesting for how it stands out from others. Carrying a little more width, particularly through the waist to the tail for added speed and paddle power. While the retro inspired wing gives the water greater directional release through the tail, at the same time taking a little width out here. It is a stand out and inspiring feature. This tail shape gives super quick turning, pivot and rail to rail transitioning all the while maintaining that drive.
We also love the colours and artwork which elevate the boards aesthetic, perfectly capturing the radical attitude of the eras it was inspired by. A board for the now from the then.
*Here's what Pukas themselves say of the model:
HIGH PERFORMANCE | Conceived for fast, radical-fun surfing where aesthetics matter.
'The late Ron Roush carried lots of momentum in the 80s and early 90s at the Pukas shaping factory defining an era with his shapes and attitude. Looking back to his boards, there was one particular design that caught Axel Lorentz's attention. Inspired by it's outline, Axel re-interpreted the new design to today's standards.
Staying true to the outline, the board now applies 30 years of surfing evolution. It is reactive, super fast and excels when carving the face of the wave due to the help of the wings. A great fun choice'.