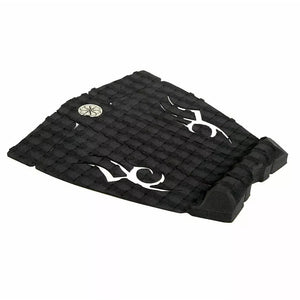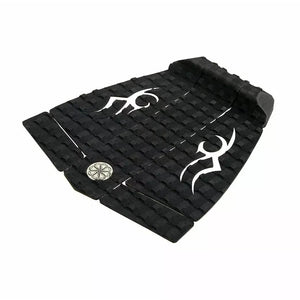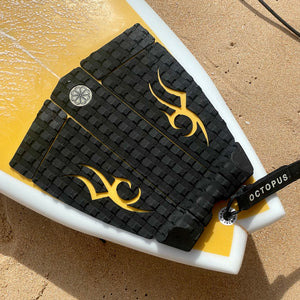 Harry Bryant's signature tail pad from Octopus features his tongue in cheek tribal graphic, die cut in contrast white on black. He has chosen a 5 piece template for maximum adaptability on your surfboard. This means you can place the pieces further apart or closer together depending on the template of your tail. It has a separate arch piece but with no raised height to it, meaning the grip is flush with the deck for board feel and comfort.
VANS Team Rider, Harry Bryant is one of our favourite current surfers. His adaptability to any craft in the sea, spontaneous surfing in critical weaves plus out and out irreverence have us watching time and time again. Check him out in his edit The Grind, VANS Pick Up commentaries or Stab Highway's Australian Road trip for pure entertainment.
Octopus make technically excellent, stylised surf accessories and essentials smattered with an air of subterfuge under their 'The Largest Surf Company in The World' banner. They're team includes some of our favourite contemporaries such as Mikey February, Chippa Wilson, Harry Bryant, Dion Agius, Dylan Graves, Nate Tyler, Brendon Gibbens, Ian Crane and more.
Harry Bryant Signature Surfboard Traction

Unique Die-Cut Inlayed 'Biohaz' Graphics
Dimensions: 12.3" x 13.25"
5 piece OCTO GRIP pad
No Arch Bar for Comfort
Kick: 45º-90º / 30mm tall
Octopus Inlayed Logo Badge
Style ref: OGR001HAZ
Shop the full Octopus Surf collection here at Hiatus: 
OCTOPUS