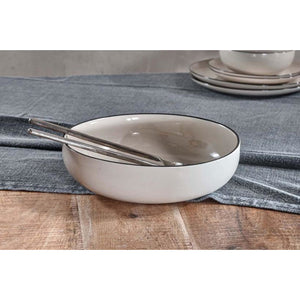 Perfectly proportioned, Nkuku's Tala serving bowls have a subtle off-white glaze and unassuming black rim. The simple design is clean and elegant.
These ceramics are handmade in Vietnam by skilled artisans, using a wealth of techniques some that are thousands of years old. The collections are painted and shaped by hand incorporating indigenous and contemporary influences.
Ethics
All of Nkuku's beautiful artisan products are Fairtrade, so ethically traded. Meaning fair wages and working conditions for the tradespeople that create them.
Dimensions (H x W x D)
Weight