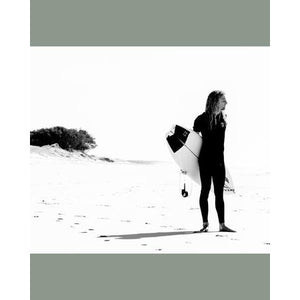 The MODOM Twin Fin Traction Pad is a two piece flat pad designed specifically for Fish or Swallow Tailed surfboards. It is flat without a kick for timeless style and great boardfeel. Designed in contemporary Charcoal Swirl marbled colour way with mono contrast white emblem, a universal colour up that sits well with any board.
Modom's diamond lock texture pattern, 3M adhesive backing with superior bond strength. Skived kick base for extra strength pad adhesion.

All Modom's surf traction pads are packaged without plastic, in contemporary styled card. Which is 100% recyclable. Each piece looks so good presented this way.
2 Piece

Width / 310mm
Length / 320mm
Tread / Diamond Lock
Plastic free packaging