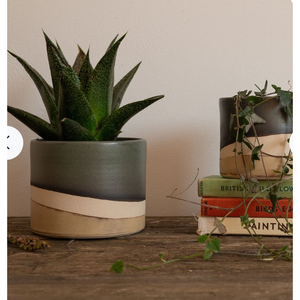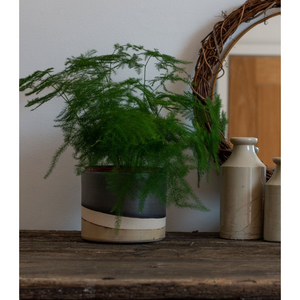 Being outside and enjoying our home environment has never been more precious until recently, so why not spruce up your garden or house with these stylish, handcrafted planters? What makes them particularly special is that each one is totally unique, so not only do they avoid that manufactured uniformity and mass-produced look, they'll look beautifully diverse when near one another.
Handmade by the Habulous team in their Dartmoor studio. Each piece is hand-thrown, dipped in our own unique glaze on the outside. The pieces are then fired to create these subtle and contemporary small, medium and large planters. The inside of the planter is left unglazed in its natural fired clay form, as this is better for the plant.
This firing is an exciting process for us as it brings the pieces to life, transforming the glaze and clay into rich, yet sophisticated tones. The earthy greens and browns resemble the natural landscape, gorse and forest of Dartmoor, where these pieces are made, which makes their unique design particularly special to us. The natural clay, visible between the two glazes, bakes to a warm, cream colour, providing a gentle contrast in texture. We can only think of the moorland's variety of terrain and those peaceful long walks across it when looking at these little planters.
As each piece is handmade, yours may differ slightly from the ones shown in the images.
Sold individually. Plants not included.

Approximate Dimensions:

Small planter
Diameter: 7.5cm
Height: 7cm