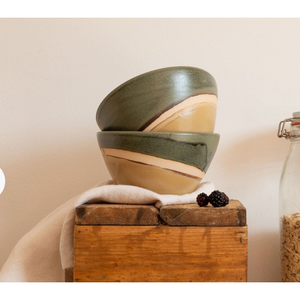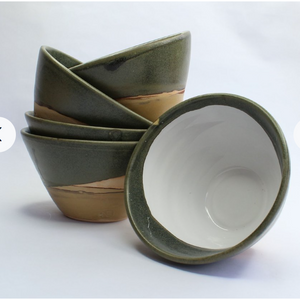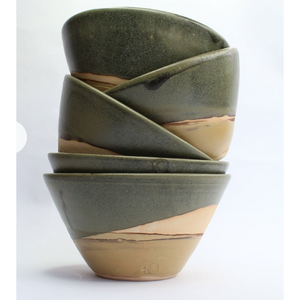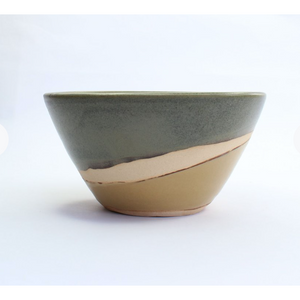 Perfect for soup, cereal, you name it; these bowls have been carefully designed to ensure the most pleasant yet simple eating experience. They have been gently spun on the wheel to create a generous but suitable depth, meaning they will hold a hearty amount and you won't have to worry about splashes over the sides. Additionally, the bowls are easy to stack once you've finished.
Handmade by Habulous. Each piece is hand-thrown, coated with white tin glaze on the inside and dipped in our own unique glaze on the outside. The pieces are then fired to create these subtle and contemporary bowls.
What makes these bowls particularly special is that each one is totally unique, so not only do they avoid that manufactured uniformity of mass-produced dishes, they're also great if you're eating with a group of people as you'll always know which one is yours. And, what better way to enjoy your cereal than seeing and eating from these handcrafted bowls that remind you of our country's beautiful landscape?
This firing is an exciting process for us as it brings the pieces to life, transforming the glaze and clay into rich, yet sophisticated tones. The earthy greens and browns resemble the natural landscape, gorse and forest of Dartmoor, where these pieces are made, which makes their unique design particularly special to us. The natural clay, visible between the two glazes, bakes to a warm, cream colour, providing a gentle contrast in texture. We can only think of the moorland's variety of terrain and those peaceful long walks across it when looking at these elegant bowls.
The strong stoneware clay and internal tin glaze means it can retain the temperature of your dish longer than your average bowl. Additionally, it is dishwasher & microwave safe, although handwashing is ideally recommended for handmade items.
As each piece is handmade, yours may differ slightly from the ones shown in the images.
Sold individually.
Approximate Dimensions:

Height: 8.5cm
Rim Diameter: 15cm 
Base Diameter: 7.5cm
Volume: 400ml