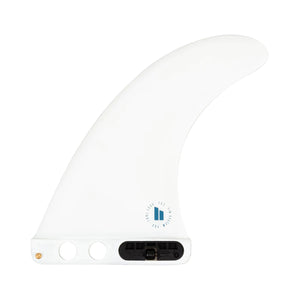 The FCS II Skindog PC Longboard Fin - Performance Glass - 7" is designed in collaboration with UK longboard champion Ben Skinner, this 7-inch upright centre fin features ultra-lightweight AirCore construction and is designed as a perfect all-around option.
Ben Skinner's Signature Longboard template fin
Complimenting his highly technical Thunderbolt range the template offers a balance of drive and hold, enabling enough pivot to execute tight turns and more radical manoeuvres.
Recommended for single fins and mid-lengths. Combine with Skindog side bytes for added performance & control in powerful surf.
Performance Core
Performance Core (PC) fins are made using a multi-layered resin transfer molding process. The flex pattern in PC fins extends progressively from the base through to the tip, helping the surfer to maintain drive and hold through a turn. This versatile fin material is light, and can be used in a variety of different conditions.
The FCS II Tool-Less Longboard System
No need for a plate and screw.
Ability to adjust your fin position in the box mid surf.
Easily insert or remove your fin in seconds. No fin key required.
Designed to be used in most existing Longboard boxes. No new box required.