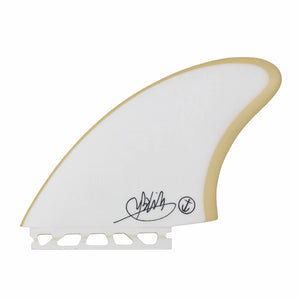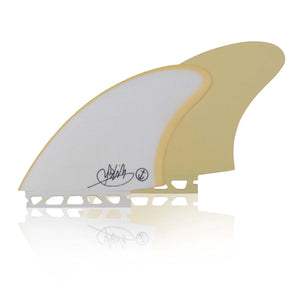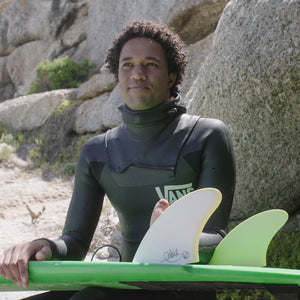 Captain Fin Mikey February Keel Fins - Signature (for Futures Fin System)
Template: Drive—perfect, balanced template for any retro twin or contemporary twin.
Construction: Fibreglass
Flex: Stiff
Compatibility: Futures (Single tab)
The signature Mikey February Keel Fin set was created with a balanced approach to trimming in mind. It has a wider base and lightly swept outline that creates hold, drive and makes for fast, smooth arcs on an open face when surfing. Add in Mikey's signature colourway, and you have the perfect set for ripping on your retro twin or contemporary twin fin surfboard.
| | |
| --- | --- |
| Fin Specification | |
| Area | 25.99" |
| Height | 5.35" |
| Base | 6.2" |
| Foil | Flat |
The Keel Fin configuration can make your surfboard fun, playful, and maneuverable. Keel fin setups are ideal for your retro fish and can even be fun in bigger waves. Keel fins offer a skatier feel and longer, more drawn out turns while offering greater down the line speed and control than an upright twin fin set in your surfboard.

The sweep, or rake, is how far the front edge of a fin arcs backwards. Rake or sweep angle is a measurement that determines how far back the fin curves in relation to its base. Fins with a small rake (large offset) help propel the board, are very stable and predictable but are not ideal for making sharp fast turns. On the other hand, fins with a large rake angle and a small offset will allow your board to have a tighter turning radius, but are more "squirrelly" and playful.
The base length of the fin is the widest point of the fin, and sits flush with the board once installed. This length can affect how the board will respond to turns. Longer fin bases create trajectories for water to go past - so your surfboard will move faster. If you want to make sharp turns, however, look for a shorter fin base length.