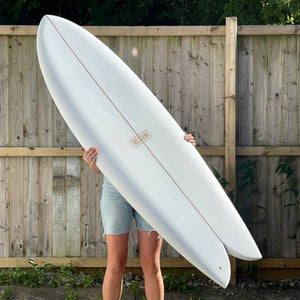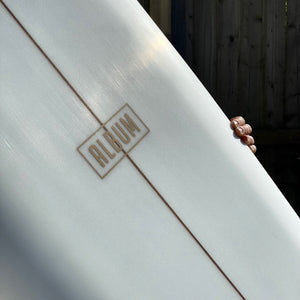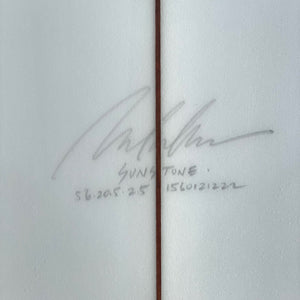 The Album Sunstone is the foundation of Asher Pacey's surfboard quiver, a baseline twin-fin fish for everyday surf and travel. This is the purest form of a classic fish template that Album make, an ode to Southern California. It has traditional fish roots that have been refined to make the board perform and feel more alive. It has elements from Album's long-running UTF model, but with a new outline and a more pronounced vee off the exit, along with a little more double-concave under the back foot. Great paddler and gets up to speed right away. Ride it with keel fins or more of an upright twin template depending on where you're surfing, experiment for personal preference. As a guideline, if required, size it 3-4 Litres above your performance shortboard. Of course personal preference and experimentation may differ and that's great.

Album SUNSTONE Twin Fin Surfboard 
Dimensions: 5'4" x 20.25" x 2.4"
Tail: Swallow Tail
Volume: 31.2 litres
Californian Made - Hand shaped & signed by Matt Parker. These particular custom boards are that little bit special. While all Album are finished by expert crafts people in their workshop, these ones are hand finished by Matt Parker himself.
Custom ALBUM Logo Placements
Album 'Built to Last' glass 6+4/6oz
*Pay later / split payments with Klarna or Clearpay. *UK Wide Shipping *International Delivery available on request.
* Please note that the surfboard images used are for reference, this is the 5'6" Sunstone. The logo placement may differ slightly, please contact us for further information on this board.