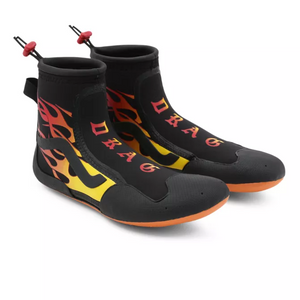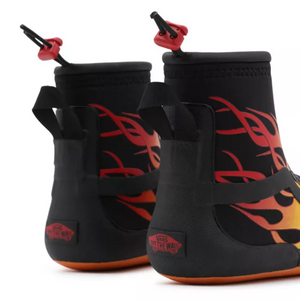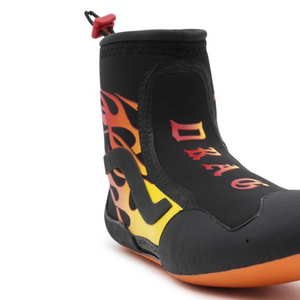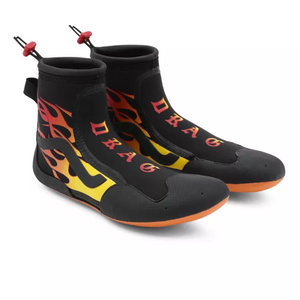 The Vans X Drag Surf Boot 2 Mid is a collaborative release between VANS Off The Wall and the ever entertaining Stoke Factory's 'Drag Board Company' of Australia. Drag's vibe is ego free wave riding, ride whatever and ride however. Drag never take it or themselves too seriously but at the same time are constantly challenging what is possible to get away with on a wave. 
Hiatus are one the only independent surf store's in the UK to stock this limited co-lab Surf Boot Mid from VANS.
This collaborative wetsuit boot is a light weight reef bootie, great for travelling and summer sessions over reef bottomed breaks or simply if you love extra grip on your board...and they feature full flame graphic! The co-lab has come about through a rider that we here at Hiatus have been unable to stop watching; the inventive and mind blowing Harry Bryant, who's endlessly original content and surfing can flip from knee board barrels to the purest straight punts...pure punk rock. Check out his latest video edit 'Bio-Haz' from Octopus if you have any doubts. It will leave you wanting to surf like nothing else, just off the sheer energy. Let alone his hilarious and unfiltered commentary on VANS winter North Shore breakdown 'The Pick-Up'.
The VANS x Drag Surf Boot 2 Mid is a technically excellent release. The boot / reef bootie is made from premium stretch 2mm neoprene which is internally perforated. The perforation controls water flow to prevent build up or ballooning, plus regulating temperature in warmer water. This wetsuit boot offers unrivalled grip and protection during summer or when travelling. VANS excellence in sole build offers supreme traction and boardfeel, their lifetime experience in in building skate footwear being applied. Second to no other fit and integral structure is offered, the sole stretching up around the boot.

The addition of externally liquid sealed seams and VANS Side Wall Stripe also give greater structural integrity. 

It fits the foot like a second skin. The VANS production and build quality is superior, with additional moulded toe cavity. Plus secure fastening collar to keep the boot safe and in place.
'VANS X Drag Board Company' Collaboration
Model: Surf Boot 2 Mid - a warm water reef bootie
Thickness: 2 mm neoprene
Perforated: For Warmer Water Temperature Regulation
VANS Superior Rubber Sole: Unrivalled Traction
Moulded Toe Cavity: Additional Fit and Comfort
Secure Toggle Closure Collar: Keeps Boots Fitted and In Place
Unique '

VANS X Drag' Flame Graphics
Composition:Textile, Synthetic