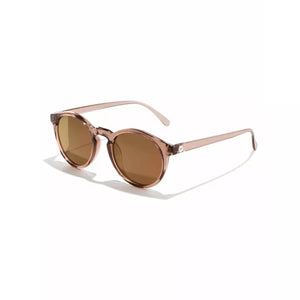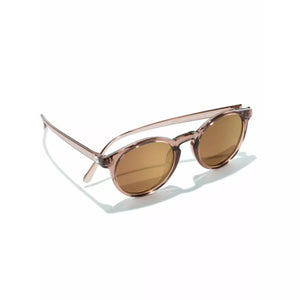 Sunski's best selling Dipsea frame is named after their favourite SF Bay Area hiking trail because it blends the style of the city with the spirit of the outdoors. With a variety of finishes and colourways to suite every occasion, the Sunski Dipsea is an updated take on a classic round shape.
Made from SuperLight, Sunski's very own recycled plastic resin saved from a US landfill. Strong, flexible, and lighter than any other material. Plus all Sunski's polarized lenses are precision-made for a crisp, clear-eyed view of the world, the brand are optics experts.
Core Features:
Polarized Lenses
SuperLight Recycled Frames
All-Day Comfortable Fit
Lifetime Warranty
Design & Fit:
The Dipsea is a medium sized frame with a classic round shape.
Weight: 18.5 grams
Wrap & Angle: Low
Temple Width: 139mm
Bridge Width: 22mm
Lens Width: 49mm
Lens Specs:
All Dipsea lenses are polarized, block 100% UVA/UVB/UV400 wavelengths and pass the FDA basic impact test.
Eye Coverage: Medium
Lens Specs
Gold: Mirror, Slate tint, 15% VLT, Base 4 curve
Slate: Non-Mirrored, Grey tint, 10% VLT, Base 4 curve
Brown: Non-Mirrored, Amber tint, 15% VLT, Base 4 curve
Sky: Mirror, Slate tint, 12% VLT, Base 4 curve
Amber: Non-Mirrored, Amber tint, 15% VLT, Base 4 curve
Aqua: Mirror, Slate tint, 12% VLT, Base 4 curve
Emerald: Mirror, Slate tint, 15% VLT, Base 4 curve
Ocean: Fade, Blue tint, 11% VLT, Base 4 curve
Bronze: Mirrored, Amber tint, 13.56 % VLT, Base 4 curve
Ruby: Non-Mirrored, Red Tint, 12% VLT, Base 4 curve
Forest: Non-Mirrored, Green tint, 11 %VLT, Base 4 curve