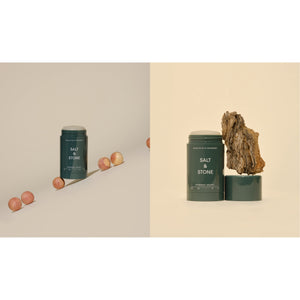 Salt & Stone Natural Deodorant - Eucalyptus & Cedarwood - 2.6 0Z / 75 G
FORMULA Nº 1 : A long-lasting natural deodorant formulated for 48 hour protection. Hyaluronic Acid moisturises the skin while probiotics help neutralise odour. Formulated without aluminium, alcohol, parabens, synthetic fragrances and dyes.
Fragrance Notes:
Like fresh eucalyptus leaves hanging over a steaming shower head - wake up with the mind-clearing aromatherapy of soft eucalyptus blended with clean cedarwood for a just-showered feeling.

Top — Eucalyptus, Water Mint
Middle — Iced Lime, Ambrette
Base — Dried Cedarwood

Key Ingredients:
Probiotics — Natural ferments to balance skin's microbiome for a healthy level of bacteria, often unbalanced by excessive sweating and activity. 
Spirulina — An antioxidant-rich ingredient that soothes and regenerates irritated skin exposed to the elements.
Hyaluronic Acid — A hydrating, water-loving molecule known for its capacity to attract and hold onto 1000x its weight in moisture.
Moisturising Oil Blend — Coconut Oil, Shea Butter and Sunflower Seed Oil soften underarm skin.
Product Volume: 2.6 0Z / 75 G
Shop the full Salt & Stone Collection here at Hiatus: SALT & STONE