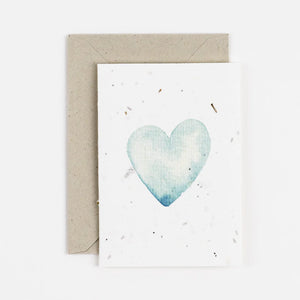 Featuring Ruby & Bo's hand painted 'Blue Heart', this card has been handmade in England using 100% recycled and biodegradable materials.

The paper has been milled in the UK and is embedded with varieties of native British wildflower seeds. All from flowers which feature on the Royal Horticultural Society's list of species that support bees, butterflies and other pollinators. 
When the card is planted, the paper will compost away to leave only flowers. A mix of annuals to provide first year colour, as well as perennials, which will flower from year two.
The card can be potted indoors, or if the season is right, sown directly into the garden soil. 
This card comes with a grey recycled paper envelope, made entirely from post-consumer (the greenest!) waste, a recycled paper 'plant me' sticker and a set of planting instructions which double as a postage protector to keep your card safe in transit.
Size (folded): A6 - 105 x 148 mm (4.1 x 5.8 inches)

SEEDS USED:
Common Agrimony 1%, Borage 7%, Wild Clary 4%, Red clover 3%, White clover 1%, Corn cockle 8%, Cornflower 6%, Ox-eye daisy 5%, Wild Foxglove 3%, Common Knapweed 6%, Greater Knapweed 5%, Purple loosestrife 1%, Wild Marjoram 1%, Meadow Cranesbil 1%, Musk mallow 5%, Common Poppy 5%, Ragged robin 2%, Sainfoin 7%, Field Scabious 7%, Small Scabious 3%, Teasel 1%, Bird's-foot trefoil 2%, Kidney vetch 2%, Viper's bugloss 2%, Yarrow 5%, Yellow Rattle 7%.