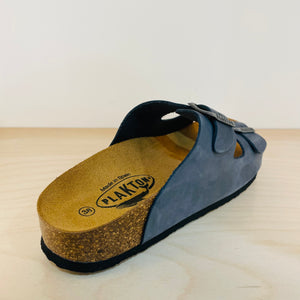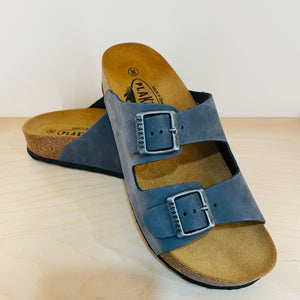 Plakton's Malaga MID is a mid soled version of their classic women's Malaga sandal, it's double strap style makes it customisable to your individual foot fit. The mid sole gives just a little extra height and the side wall comes a little higher really cupping the foot, giving an even more snug and secure fit. Reaction to this style is always to the level of comfort it brings and how comfortably it cups the foot. Perfect for the casual every day wardrobe, compatible with any outfit or time of day.

Plakton are renowned for their comfort and it is the first thing that strikes the wearer when first slipping them on. The soles feature a higher cork content than other makers of this style of footwear, giving greater cushioning. Add to this the additional memory foam cushioning to the footbed and you have an unbeatable comfort.
Features:
Mid height sole
Slightly higher side wall
Double strap sandal
Leather upper
Sole: Natural Cork / EVA
Details: Customisable fit
Made in Spain
Plakton is an artisan shoe and footwear maker from Spain, specialising in the production of footwear and shoes with natural cork soles. Their products are exclusively handmade in Spain, from only the finest hand chosen materials.
Shop the full Plakton Footwear Collection here at Hiatus: 
PLAKTON