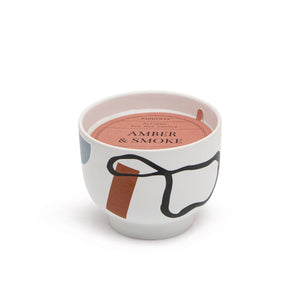 Paddywax's latest collection finds beauty in imperfection. These 12oz matte, ceramic bowls are food safe! They make great rice bowls once fully burned. Wabi Sabi comes in five sophisticated fragrances with dust covers.
Top Notes: Eucalyptus, Spearmint, Fresh Ozone, Pine Needles 
Middle Notes: Suede, Silver Spruce, White Leather, Patchouli 
Base Notes:  Smoked Cedar, Fir Embers, Spiced Balsam

Paddywax are a leader in hand-poured, fragrance-infused, soy wax blended candles. With a diverse selection of ranges, they have dedicated themselves to creating something lovely for every home. They are also renowned for creating beautiful vessels to encourage your customers to recycle, reuse and rekindle once the candle's life is over.