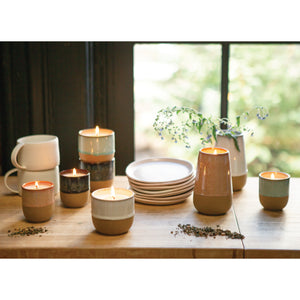 With shapes inspired by the Japanese tradition of tea and sake, this Kin candle offers both elegance and practicality. This 6oz. ceramic vessel is dishwasher + microwave safe and designed to live in the kitchen for traditions of your own.
Top Notes: Cyclamen, Cherry Blossoms, Orange Flower
Middle Notes: Star Jasmine, Moroccan Rose Petals, Rainforest Bamboo
Base Notes: Hyacinth, Palm Leaves, Trailing Ivy
Paddywax are a leader in hand-poured, fragrance-infused, soy wax blended candles. With a diverse selection of ranges, they have dedicated themselves to creating something lovely for every home. They are also renowned for creating beautiful vessels to encourage your customers to recycle, reuse and rekindle once the candle's life is over.