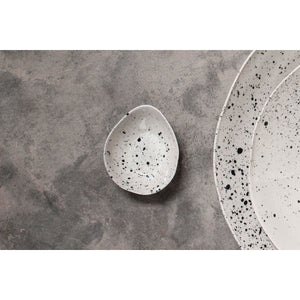 Nkuku's Ama dipping bowls are the perfect size for holding vinegars and oils. The elegant oval design and striking black splatter finish add to their charm. Each one is handmade from stoneware using traditional techniques.
Words of wisdom
These ceramics are handmade in Vietnam by skilled artisans, using a wealth of techniques some that are thousands of years old. The collections are painted and shaped by hand incorporating indigenous and contemporary influences.
 Dimensions: (H x W x D) 3.5cm x 10cmcm
Weight: 0.33kg
Dishwasher Safe: Yes
Microwave Safe: Yes

Ethics
All of Nkuku's beautiful artisan products are Fairtrade, so ethically traded. Meaning fair wages and working conditions for the tradespeople that create them.