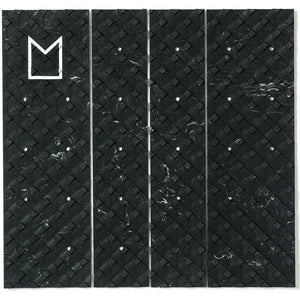 This 4 piece full deck grip for your surfboard offers unparalleled traction and placement for your front foot. Also helping to protect the deck of your surfboard from the inevitable compression dings made over time. A considered four piece design makes it highly adaptable, enabling customised placement. It REALLY looks the part, you'll be soaring like Ando!
Manufactured with Modom's diamond lock texture pattern, 3M adhesive backing with superior bond strength. Also features kick base for extra strength pad adhesion.

All Modom's surf traction pads are packaged plastic free, in clean contemporary style. This card packaging is 100% recyclable.
4 Piece

Width / 360mm
Length / 350mm
Tread / Diamond Lock
Plastic free packaging