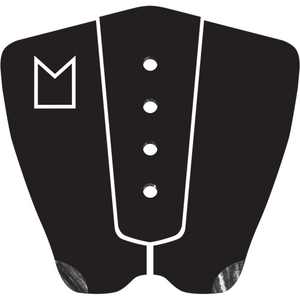 Craig Anderson signature surfboard traction tail pad in contemporary 'Blackness' colour way, which features class black / charcoal marble swirl to the tail block interior. This tailpad is a three piece design for adaptability, which features arch bar and tail kick for performance surfing. These features help keep the foot in place. Presented by everyone's favourite contemporary surf style master Craig Anderson.
Modom's diamond lock texture pattern, 3M adhesive backing with superior bond strength. Skived kick base for extra strength pad adhesion.

All Modom's surf traction pads are packaged without plastic, in contemporary styled card. Which is 100% recyclable. Each piece looks so good presented this way.
3 Piece for Adaptability and Hold

Perfect for standard width boards

Width 303mm
Length 295mm
Kick / 30mm
Arch / 5mm
Tread / Diamond Lock
Plastic free packaging