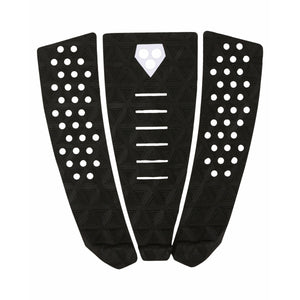 Great core range 3 piece tailpad from Gorilla Grip, providing maximum versatility and traction to the tail of your surfboard.

Gorilla Grips use lightweight EVA foam with ultra strength glue; keeping the grip well and truly stuck to your stick. 
Gorilla grooves and sanded surfaces hold your feet in a vice-like grip, each groove and arch tailoring that gripping feel so you can jam your foot down and ride it like you mean it. 
Features 
Style: Three Piece Tail pad
Style: 3 Piece Tail Pad
Material: Ultra Light EVA foam

3D delta design with a narrow ridge and high rear point.

Copperhead Arch

High Wedge to vertical tail kick

Get stuck with 3 way lock

Pyramid scheme groove.

Sanded finish with plenty of cut outs for maximum grip
Gorilla Grip uses high quality foam to make a tail pad that's lighter on your surfboard and easier on your skin. It's simple, they give you the best traction you can get. Enjoy the ride... buy a grip, make it Gorilla.