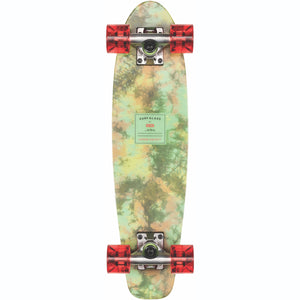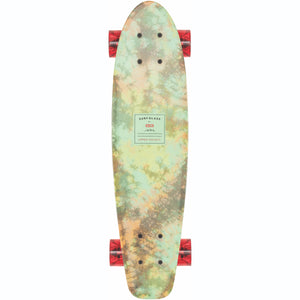 The Surf Glass in Upper Haight is a small flexy cruiser that will fit in a backpack. Featuring fibercarve flex deck, cambered nose to tail and 3.5" Tensor alloy trucks. Also features 58mm 85a wheels, clear broadcast grip and semi-translucent deck.
Dimensions: 24" x 6.125" x 14"WB
FIBERGLASS CONSTRUCTION
+ STRONGER, FLEXIER
A modern take on traditional fiberglass skateboards commonly crafted by surfboard shapers using leftover fiberglass sheets in the 1960s/70s. Unlike yesteryear's counter-parts, this technically improved rendition uses a Fibercarve laminate construction that's nearly indestructible.
TENSOR ALLOY STANDARD TRUCKS
+ GUARANTEED FOR LIFE
Standard trucks typically used on models less than 34" long.
ABEC 7 BEARINGS
+ LESS PUSHING, LONGER ROLL
Standard on every complete, Globe Abec-7 bearings spin faster and longer which means less effort and faster.
PERFORMANCE WHEELS
+ FASTER SMOOTHER GRIPPER
Globe's high-rebound urethane formulas are abrasion resistant, smoother, faster, and provide excellent grip.
REGROWTH 
In order to off-set the timber they use to construct they're skateboards, Globe's goal is to engage in forestry efforts that replace far more than they consume.
To that effect, they have partnered with the National Forest Foundation (NFF) to donate to their tree-planting program. Globe's yearly donations to the NFF help plant more than three times the amount of trees they harvest annually in making their skateboards.
The NFF is a United States non-profit organisation that launched an ambitious campaign to plant 50 million trees across public National Forests between 2018 and 2023. The NFF partners with the United States Forest Service to target National Forests impacted by wildfire, pests and other disturbances. Globe is proud to be making a contribution towards that effort.