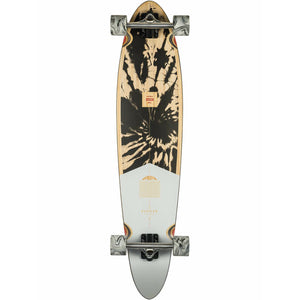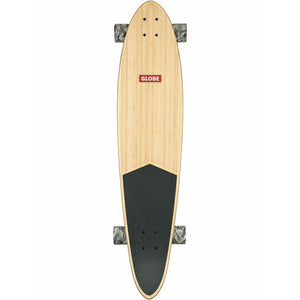 A traditional surf-inspired shape, reverse-kingpin trucks, and soft urethane wheels. Everything you need to enjoy sidewalk surfing. The Pinner Classic Longboard complete set-up, in Bamboo / Black Dye graphic is a GLOBE classic pintail longboard skateboard with a kicktail. This kicktail gives it greater adaptability over a classically flat longboard, enabling kickturns or even ollies aswell as classic carving and cruising. Featuring a coloured die-cut griptape upper
Made of Resin-8 hard rock maple. It has a mellow concave with kick tail and 180mm Slant reverse kingpin trucks with 65mm 78a wheels.
It is available in size 40" x 9.0" x 26.75"WB.

Bamboo Construction
The fastest growing "tree" on earth, bamboo is harder and a little stiffer than hard rock maple. The harvesting process doesn't require replanting and crops mature many times over in the span it takes maple trees grow.
Slant Reverse Kingpin Trucks
Typically used on models greater than 34" long Reversible 50/54° hangers. 50° for stability at high speeds. 54° for tighter, more responsive turns.
Performance Wheels
Globe's high-rebound urethane formulas are abrasion resistant, smoother, faster, and provide excellent grip. Standard on every complete, Globe Abec-7 bearings spin faster and longer which means less effort and faster.
REGROWTH 
In order to off-set the timber they use to construct they're skateboards, Globe's goal is to engage in forestry efforts that replace far more than they consume.
To that effect, they have partnered with the National Forest Foundation (NFF) to donate to their tree-planting program. Globe's yearly donations to the NFF help plant more than three times the amount of trees they harvest annually in making their skateboards.
The NFF is a United States non-profit organisation that launched an ambitious campaign to plant 50 million trees across public National Forests between 2018 and 2023. The NFF partners with the United States Forest Service to target National Forests impacted by wildfire, pests and other disturbances. Globe is proud to be making a contribution towards that effort.