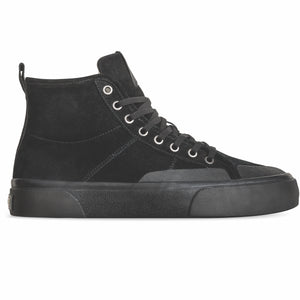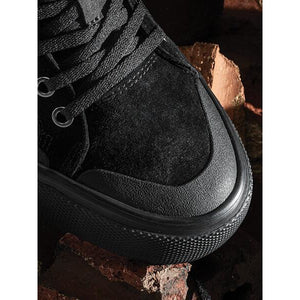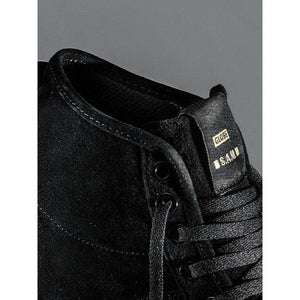 The Los Angered II in colour Black Wolverine/Montano is part of Globe's Lifestyle Series, by Dion Agius. This is a signature Sammy Montano make up, using materials and construction for skate durability. This Los Angered II is made of Wolverine Pig Nubuck / Canvas. The sequel to the Los Angered, originally designed for Dion Agius, has morphed into a preferred high top of the Globe skate team. Globe's ShockbedTM insole for impact control and Super-VTM outsole for enhanced grip and board feel highlight the details of this contemporary classic. It features Shockbed™ Insole and Super-V™ outsole.
Wolverine Long-Lasting Leathers
As part of Globe's ongoing pursuit to improve their sustainability, the brand have been researching and testing materials that are eco-friendlier, more durable while maintaining a high level of performance. This style uses the most durable leather available from Wolverine Leathers, the global leader of performance leather derived from pigskin. The eco-leather used is biodegradable and metal-free and humanely harvested. Longer lasting than regular leathers - durability translates to less landfill.
Rubber Ollie Patch
Rubber ollie insert patch enhances robustness of the foxing tape, providing more protection against abrasion.
Shockbed™ Insole
Globe's polyurethane Shockbed™ insole footbed provides superior rebound protection and impact control for the life of the shoe.
Flex, Durability, Board Feel
The Super V vulcanized sole pattern has been designed with grip, smooth flex, and long wearing durability in mind. Globe's S-Trac lug pattern and additional material thickness in the toe and heel ensure long wear and excellent grip.
Materials:
• Wolverine Leathers® Firefighter Nubuck upper 
• Shockbed™ insole
• Super-V™ outsole
WHY WOLVERINE LEATHERS®
Wolverine Leathers® use sustainable, environmentally friendly materials and tanning processes to improve product performance while reducing their chemical footprint.
They track energy consumption, air and noise emissions, water usage, promote worker safety and well-being through Leather Working Group standards for worker safety and United Nations sustainability goals.
Their tanneries are powered with biomass, and Nubuck is much more environmentally friendly – using less water, less land, and far less greenhouse gases produced.