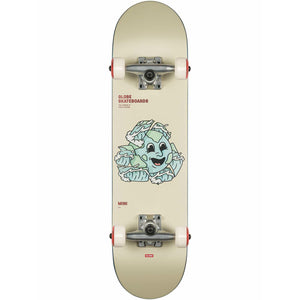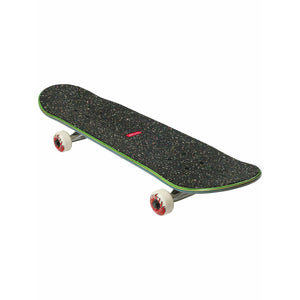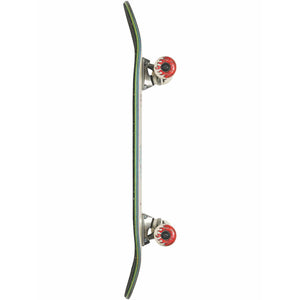 The KIDS Environmentalist Mini in colour Cycle, featuring uber cool and thought inspiring recycled rubber grip, made from end of life car tyres. Amazing.
Classic Resin-7 hard rock maple complete with ABEC-7 bearings. It comes in size 7.0  X 28  X 12 wb featuring Resin-7 hard rock maple and Medium concave. It has 4.75 Tensor alloy trucks and 51mm 95a wheels. Recycled Rubber Grip with Softer; grom-friendly bushings.
• 7.0" x 28" X 12"WB 
• Recycled Rubber Grip
• Resin-7 hard rock maple
• 4.75" Tensor alloy trucks 
• Globe Abec-7 bearings
• 51mm 95a wheels
Recycled Rubber Grip
What happens to worn out shoes and car tires at the end of their lifecycle? In most cases, they become landfill, never really breaking down, destinated to sit in a pile on this earth for millenia. In this case... they become a more environmentally sustainable approach to griptape and EVA foam. Featured as replacement to virgin materials, and prominently on kids boards to get them thinking about what happens to things when we're done using them early on.
REGROWTH:
In order to off-set the timber they use to construct they're skateboards, Globe's goal is to engage in forestry efforts that replace far more than they consume.
To that effect, they have partnered with the National Forest Foundation (NFF) in the US to donate to their tree-planting program. Globe's yearly donations to the NFF help plant more than three times the amount of trees they harvest annually in making their skateboards.
G1 Complete Skateboards
With full concave, Tensor Hollow Kingpin Trucks, 53mm wheels and ABEC-7 bearings. Each board is individually pressed to meet your exact shape requirements every time. With high quality Tensor trucks.

Resin Construction
Epoxy resin is used to press all Globe's boards which make them lighter, stronger, and longer lasting than normal water-based decks.
Tensor Alloy Standard Trucks
Standard trucks typically used on models less than 34" long. These trucks are guaranteed for life.
Performance Wheels
Globe's high-rebound urethane formulas are abrasion resistant, smoother, faster, and provide excellent grip. Standard on every Globe complete, Globe Abec-7 bearings spin faster and longer which means less effort and faster.