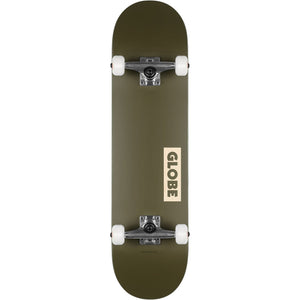 The Goodstock skateboard in colour Fatigue Green is a GLOBE Classic resin-7 complete with ABEC-7 bearings. It is available in size 8.25" x 32" x 14.25"WB. It is made of Resin-7 hard rock maple. It has a full concave and 5.5" Tensor Alloy trucks with 52mm 99a wheels. It features black griptape and matte finish, logo knocks out to wood.
• 8.25" x 32" x 14.25"WB
• Resin-7 hard rock maple
• 5.5" Tensor alloy trucks 
• Globe Abec-7 bearings
• 52mm 99a wheels
Goodstock Complete Skateboards
Globe's evergreen staple decks & completes. Constructed with Resin-7 hard rock maple, full concave with a matte finish with visible wood grain. Quality constructed timeless classics designed for all abilities. Available in a range of colours and sizes.
Resin Construction
Epoxy resin is used to press all our boards which make them lighter, stronger, and longer lasting than normal water-based decks.
Tensor Alloy Standard Trucks
Standard Tensor trucks typically used on models less than 34" long. These trucks are guaranteed for life.
Performance Wheels
Globe's high-rebound urethane formulas are abrasion resistant, smoother, faster, and provide excellent grip. Standard on every Globe complete, Globe Abec-7 bearings spin faster and longer which means less effort and faster.
REGROWTH:
In order to off-set the timber they use to construct they're skateboards, Globe's goal is to engage in forestry efforts that replace far more than they consume.
To that effect, they have partnered with the National Forest Foundation (NFF) in the US to donate to their tree-planting program. Globe's yearly donations to the NFF help plant more than three times the amount of trees they harvest annually in making their skateboards.