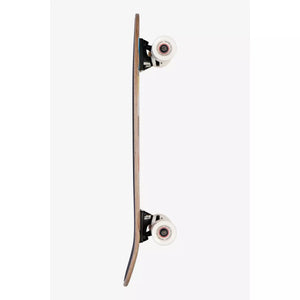 Mini diamond-tail cruiser with soft conical wheels. The Blazer 26 in Eames/Play features Mellow concave with a kicktail and is constructed from Rosewood + Resin-7 hard rock maple.
Based on the colorful Eames TOY pattern art, and embellished with rosewood, Globe's Eames collaborative cruiser is all about the details. Look closely and you'll notice deck hardware impressed with a "sunburst" logo, a mark of authenticity on the wheels, and more. It features two quotes as highly relevant to skateboarding as they were to the items they lovingly created. A favourite is "Toys are not as innocent as they look. Toys and games are the preludes to serious ideas."
This is an authentic product from Globe Skateboards and the Eames Office. Eames, Eames Office, the Eames Signature, and Eames Office logo are trademarks of Eames Office, LLC
© Eames Office, LLC / All rights reserved.
Materials
• 26" x 7.25" x 13.75"wb

• Rosewood + Resin-7 hard rock maple

• Mellow concave with kicktail

• 3.75" Tensor alloy trucks

• 58mm 83a Retro Flex Cruiser wheels

• Black grip tape with top art