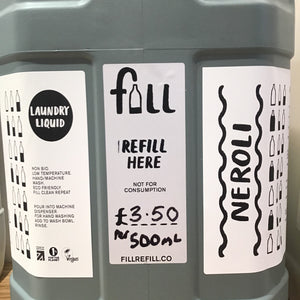 Hiatus offers Fill Refill Co.'s planet friendly body care and home cleaning products to pick up in store. You can bring in your empty Fill bottle for refilling or any other bottle you wish to carry on using or recycle; as long as it states the liquid volume that it carries on the label, that way we know how much we are refilling.
*Please note: In store only! This is refill product is part of a refill programme, which is decanted from larger containers as part of a closed circle model. This product does not come in individual packets, therefore it is not available for shipping.
CONTAINS MILD NATURALLY DERIVED SURFACTANTS
GENTLE ON WHITES & COLOURS
AVAILABLE UNSCENTED OR +FRAGRANCE NEROLI
NON BIO
FRAGRANCE & DYE FREE
MILDLY ALKALINE
REFILLABLE
ECO FRIENDLY
BIODEGRADABLE
VEGAN
MADE IN NORTHAMPTONSHIRE
UNSCENTED LAUNDRY LIQUID HAS PASSED ASSESSMENT FOR THE ALLERGY UK ALLERGY FRIENDLY PRODUCT AWARD
CERTIFIED PLASTIC FREE
DELIVERED PLASTIC FREE
HOW TO USE:
MACHINE WASH: POUR INTO MACHINE DISPENSER. LIGHT SOIL 20ML • MEDIUM SOIL 40ML • HEAVY SOIL 60ML. HAND WASH: DILUTE 1–2 CAPFULS IN WASH BOWL. SOAK FOR 5 MINS. RINSE IN COLD WATER. ALWAYS FOLLOW GARMENT CARE. INSTRUCTIONS & MACHINE MANUFACTURERS' GUIDELINES.
STORE ABOVE 5°C.
CONTAINS AMONGST OTHER INGREDIENTS:
LESS THAN 5%: GLYCOL ETHER, ISOPROPANOL, PEG ESTER, FRAGRANCE
MORE THAN 30%: AQUA