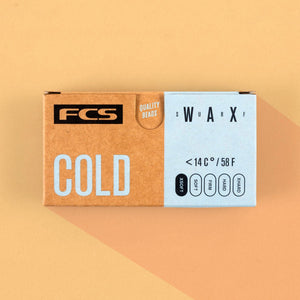 This 'FCS Surf Wax - Cold Water (Extra Soft) - Blue' has been researched and developed for recommended sea temperatures of - 14 C / 58 F and below. This is a great guideline, of course as with all waxes though some people may want to experiment or have a preference to go a little harder or softer and that's fine too.
FCS Surf Wax is designed for ultimate traction and tackiness in all tested surf conditions. FCS Surf Wax is developed to provide high-quality bead building on the deck of your surfboard for the best grip in all water temperatures. It is packaged in 100% recycled packaging.
Overview
FCS Surf Wax is available in cold, cool, warm and tropical blocks with a base coat option for creating a premium textured, long-lasting, layered stick for your surfboard.
•  Four Temperatures + Base Coat
•  100% Recycled Packaging
•  Wax Contains Natural Ingredients
•  Coconut Scented
•  Quality Beads
•  Made In The U.S.A
| | | |
| --- | --- | --- |
| Wax | Temperature | Density |
| Base | All Temperature | Extra Hard |
| Tropical | + 22°C / 72F | Hard |
| Warm | 18-22°C / 64-72F | Firm |
| Cool | 13-19°C / 56-66F | Soft |
| Cold | - 14 C / 58 F | Extra Soft |