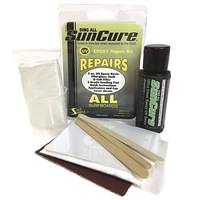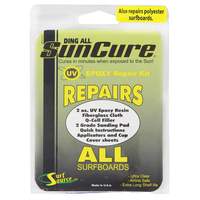 Ding All brand
UV epoxy repair kit
Size: 2 oz
Ultraclear
New improved formula
Airline safe
Non-yellowing and odourless
Super strong
Extra long shelf life
Ideal for polyester and epoxy boards

Kit inclusions:

2 oz UV resin
2-Grade sanding pad
Fibreglass cloth
Q-Cell filler
Mixing cup and applicator sticks
Cover sheets
The new Ding All Sun Cure Repairs All Surfboards Kit is a must-have for every surfer. Easy to apply, quick drying, and with an extra long shelf life, it is the easy way to repair damaged boards. This repair kit is ultraclear and is non-yellowing and odourless. It is super strong for a permanent fix. Aside from the 2-oz UV resin, the repair kit also includes a sanding pad, a fibreglass cloth, Q-Cell filler, mixing cup and applicator sticks, and cover sheets.