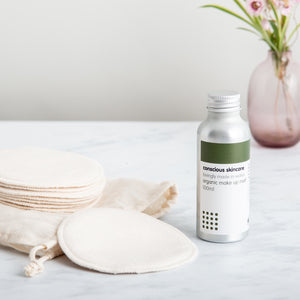 Conscious Skincare's award winning Make Up Melt is a Natural Makeup Remover. It is made with certified Organic Sesame and Castor oils. This Conscious Skincare product comes in a stylish, lightweight aluminum bottle, and it is suitable for all skin types.
Description:
A great natural makeup remover and also a Winner of 'Best Make Up Remover' category in the Platinum Awards. 
'Very kind and effective. It dealt happily with everything, even mascara, a winner with the whole panel' – natural beauty celebrity Janey Lee Grace.
How do the ingredients in this natural makeup remover work?
This fabulous

 

Make Up Melt

 

is made with certified

 

Organic Sesame

 

and

 

Castor oils.
It is a

 

facial cleanser

 

which is suitable for all skin types.
These light oils are extremely effective in gently breaking down and wiping away makeup ingredients. In addition this will leave your skin cleansed without feeling greasy.
This oil based makeup remover is great for dissolving mascara – even the waterproof ones!
Organic Sesame oil spreads easily across your skin. It also has great skin care properties (high in antioxidants) and forms a light barrier to help skin retain moisture.
Organic Castor oil penetrates deep into your skin, softening and hydrating it. The penetrating action really helps lift make up out from the pores of your skin. This oil also helps to promote the production of elastin and collagen. These can help delay the appearance of fine lines and wrinkles giving your skin a more youthful appearance.
Conscious have also added a wonderful and fragrant combination of Rosemary, Eucalyptus and Myrtle essential oils. These combine to lift grime, unclog pores and generally tone your skin.
Rosemary essential oil

 

assists with healthy skin circulation and also has antioxidant benefits. It can also help rejuvenate and tighten skin.
Eucalyptus oil

 

has a wonderful fragrance and helps to get your skin truly clean! It has antibacterial and anti inflammatory properties which help to stimulate your skin.
Myrtle essential oil

 

has great skin balancing properties. It can assist with dry or oily skin types and also has good astringent benefits.
The brand recommend using this natural makeup remover daily as part of an organic skincare regime.
Make Up Melt is a fantastic organic makeup remover which really works.
Completely free from synthetic preservatives and harsh ingredients.
Conscious Skincare is accredited by the Vegetarian Society and PETA. It proudly carries the Leaping Bunny Cruelty Free logo on their products.
Also suitable for Vegans.
Dimensions: H11cm W4cm, 100ml size
Ingredients
Make Up Melt – ingredients list.
cold pressed sesame oil*
cold pressed castor oil*
grapefruit seed extract
eucalyptus oil*
myrtle oil*
rosemary oil*
naturally occurring d-limonene, linalol
* denotes organic.
How to use
Using Conscious Skincare Make Up Melt.
Use mornings and at night, as required
Press pump once (if used) or
Apply a small amount to a dampened organic cotton pad / face cloth (sold separately)
Sweep over face to remove makeup
Rinse with warm water
Follow with organic toner