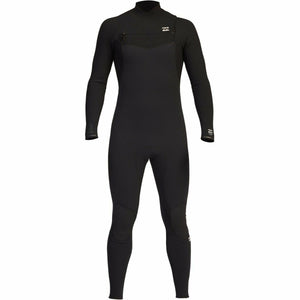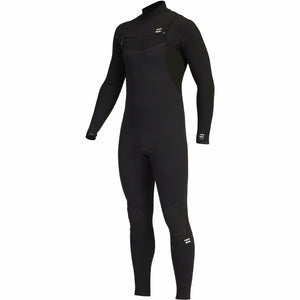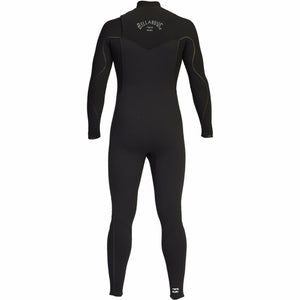 For this season Billabong's market leading Furnace Comp Wetsuit 5/4mm has been elevated yet again by their push into greater technology. Their brilliantly flexible Airlite 4D Foam now has Graphene Recycler+ fibres lining the entire suit, helping to keep you surfing for longer through greater warmth. While at the same time this Billabong Airlite 4D retains the greatest range of movement within a winter suit. This 5/4mm wetsuit which due to the Graphene lining gives the heat of a much thicker suit is going to one of the warmest choices available while retaining great flexibility.
Additional features such as critical interior taping and their YKK chest zip help to seal water out even further. While it's minimal seam design helps support this as well as being engineered for a supreme ergonomic fit.
Billabong continues further with it's drive to make the wetsuit ever more sustainable through it's Recycler programme:
Recycled Jerseys and Liners:
EVERY wetsuit Billabong make uses laminates made from 100% recycled materials, saving millions of plastic bottles from landfills and the world's oceans.
Recycled Foam:
Recycled car tyres and scrap neoprene make up a significant portion of Billabong's foam.
Features:
Billabong Premium high stretch cold water wetsuit


Foam:

 

Airlite 4D infuses Billabong's Graphene fibres into their already incredible Airlite liners. The result? You'll be warmer faster, for longer. It's lighter, more flexible and best of all, 100% recycled.

Exterior fabric:

 

Airlite Recycler is Billabong's most flexible, perforated stretch jersey, now made from 100% recycled materials

Lining:

 

Graphene Recycler+ 100% recycled Graphene fibers lining the entire interior of the suit to keep you warm, longer

Comp II entry system for quick, easy on and off

YKK Dislocating chest zip entry prevents zip failure

Critically welded, durable water-tight seams

Billabong Airlite 4D unparalleled stretch

Minimal seams, maximum flex

100% Welded Durable water-tight seams

Aqua Alpha non-toxic, water-based glues

Machine-applied Superflex tape