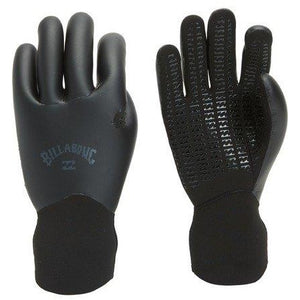 Billabong's Furnace Glove features their leading warmth technology making it their highest end wetsuit glove. The Graphene incorporating lining is super heat retentive and moisture wicking. This means that it keeps moisture away from the hands, retains expelled body heat for warmth and is also far quicker drying after use. Billabong are always re-evaluating the design and cut of the glove itself so that you get a superior, ergonomic fit which in itself elevates performance in all areas. Designed by surfer for surfers...and it shows.
Features:
Billabong's 'Furnace' is their warmest, high-performance Wetsuit Glove.


'Furnace' Carbon Graphene 0.40 internal lining throughout.

Innovative new graphene-coated yarns trap and retain heat more efficiently for longer making it incredibly warm, knitted to allow the material to stretch and reduce water absorption and dry super-fast.

Billabong Smart foam - Oxygen blown with best thermal retention.

Glide skin wind resistant fabric.
Superlight foam - Lightweight, high stretch with great thermal retention.

New shape for better ergonomic feel and less leaking.

Fitted design.