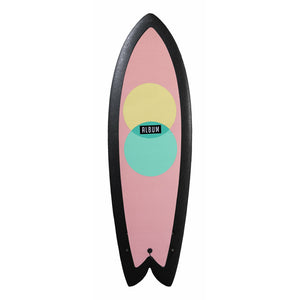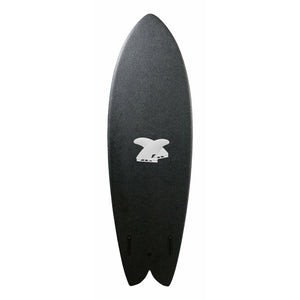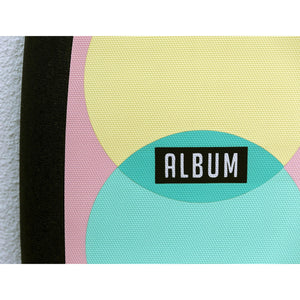 The Album Surfboards 5'7" Presto Fish started life as one of Album's refined custom shapes which they then scanned and translated in to the Presto as you see it. A 5'7" fish but with plenty of volume at 43.5 litres and unique rail shape and concave bottom. All these attributes make it something universal, a board with plenty of volume for all but that even intermediate or advanced surfers can pick up alike to try something different. We have been taking them out and enjoying experimenting with the boards release or hold depending on the conditions and fins you use.
A soft top surfboard that still exudes the cool of Matt Parker's hand shaped creations. Constructed from 100% recyclable materials, though hopefully it will last a lifetime. Ideal as a fun elevating second board or ideal for starting out on if you want something with greater refinement and performance than the run of the mill soft top. Think of the Presto as operating somewhere between a soft board and a standard PU board, their construction allows them to carry the bottom counters and rockers of the hand shaped surfboard models from Album.
This board's grippy deck means it can be used without wax, meaning less time wasted at the beach and making it a good choice for transporting in cars with a little less mess. The Album Presto also comes with fins included. You can ride with the complimentary twin fin set, these are a slightly smaller performance twin fin template or swap them out for any Futures compatible twins you might have. A larger fin would give extra drive and hold for example.
5'7" x 21.5" x 3" (approx 43.5 liters)
Fins included.

 Also compatible with any other Futures system twin fins.

No wax needed. Extra grippy pad on the length of the deck.
100% recyclable:

 deckpad, core, fin boxes, stringer system and leash plug. Made in The USA.

Light and durable with a copolymer core and inset stringers.
Model: Album Presto Soft Top Fish
Construction: Semi Soft with a Copolymer Core and Inset Stringers.
Dimensions:
5'7" x 21.5" x 3" (approx 43.5 liters)